Eight day Tour around the highest mountain in the Alps
Mont Blanc, or Monte Bianco in Italian, is the highest mountain in the Alps: it rises 4,810 m ( 15,782 ft ). We will walk one of the classic treks of the world around this massif of incredible beauty. Starting from Courmayeur, in Italy, we will pass through Champex in Switzerland and Chamonix in France: three countries, three cultures, three cuisines!
We organize the Tour du Mont Blanc in eight days of walk, to admire wonderful peaks, big glaciers and a lot of summits over 4000 meters elevation, the famous Four-thousanders, but also to discover the nature and the ancient villages around them. Small typical mountain huts (called "rifugio" in Italian, "refuge" in French) and comfortable hostels, with regional cuisine, will make this adventure unforgettable.
If you love mountains, you cannot miss it!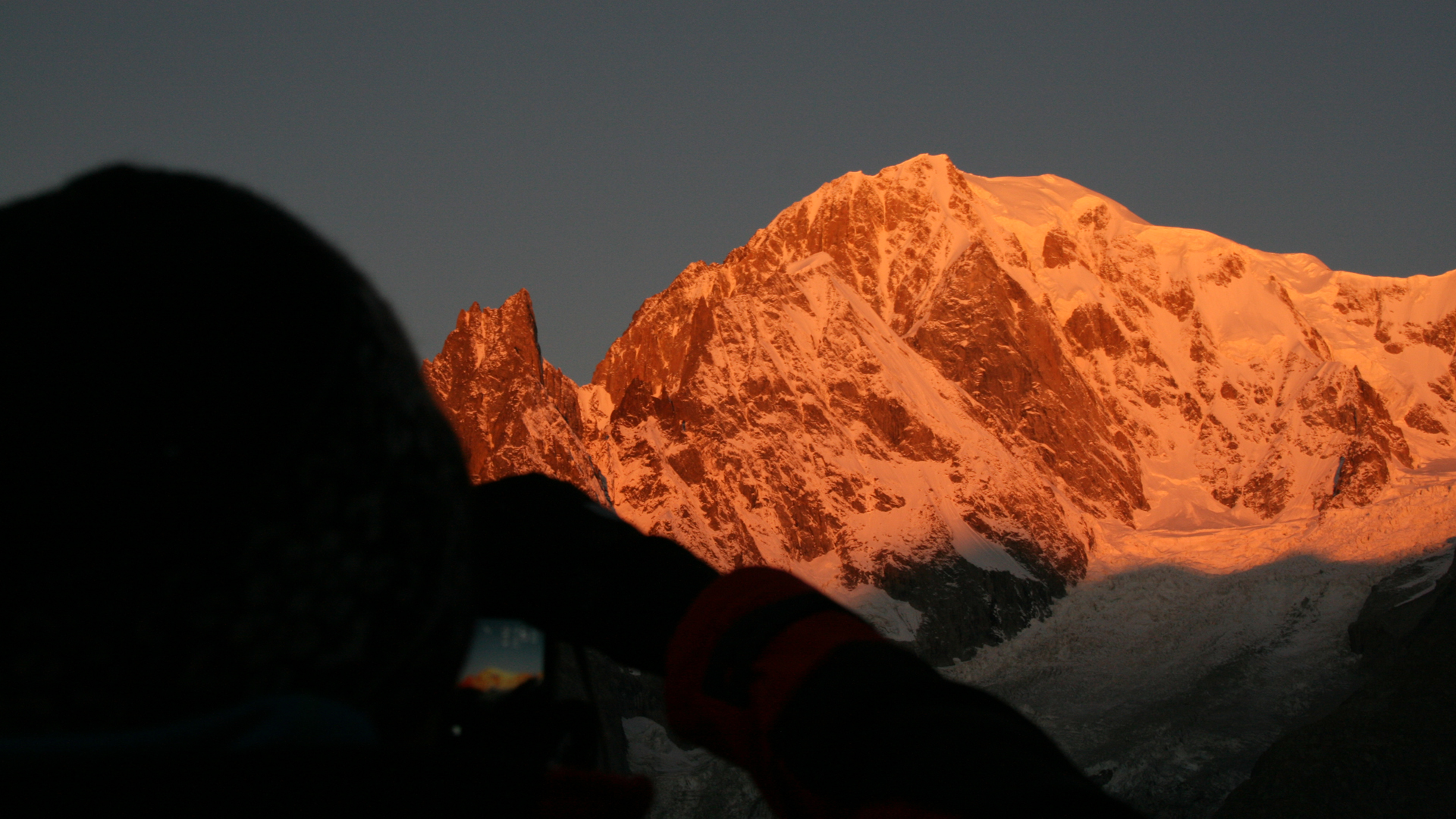 PROGRAMME
Arrival in Courmayeur – Italy
ITINERARY TOUR MONTE BIANCO
ITINERARY
First day: first day of trekking, from Courmayeur (Italy) to Rifugio Bertone and then to Rifugio Bonatti. We will enjoy a wonderful view on the South face of Mont Blanc, Dent du Geant and Grandes Jorasses. 4 ½ hours. 12 km, 900 m rise.
Second day: walk a little down to the valley, just at the footsteps of huge rock faces and glaciers, and then up to Grand Col Ferret, the borderline with Switzerland. Down into the Swiss Val Ferret a minibus will bring us to Champex. 6 hours. 15 km, 700 m rise, 1100 m drop.
Third day: today we will cross Fenetre d'Arpette, one of the two highest points of our tour, at 2665 m. Then we will walk at just few meters from Glacier du Trient, arriving in the afternoon at Col de la Foclaz. 6 ½ hours. 12 km,1050 m rise, 1150 m drop.
Fourth day: walk down to Trient and then up to the top of Chamonix valley, with great view on all the North side of Mont Blanc. Then we will walk down along a ridge to the tiny village of Tré le Champ. 5 ½ hours. 13 km, 1100 m rise, 1200 m drop.
Fifth day: today's path will bring us to Chalet du Lac Blanc, an amazing natural terrace just in front of all the Mont Blanc Massif. From this point we will go down to Chamonix, the town where alpinism was born in 1786. 6 ½ hours. 13 km, 950 m rise, 1300 m drop.
Sixth day: in the morning the bus will take the group to Les Houches, then by cable car to Bellevue (literally "nice view"). From this point we'll start walking at the footsteps of the North-West side of Mont Blanc, also crossing a suspended bridge, till Les Contamines. 6 ½ hours. 19 km, 1000 m rise, 1250 m drop.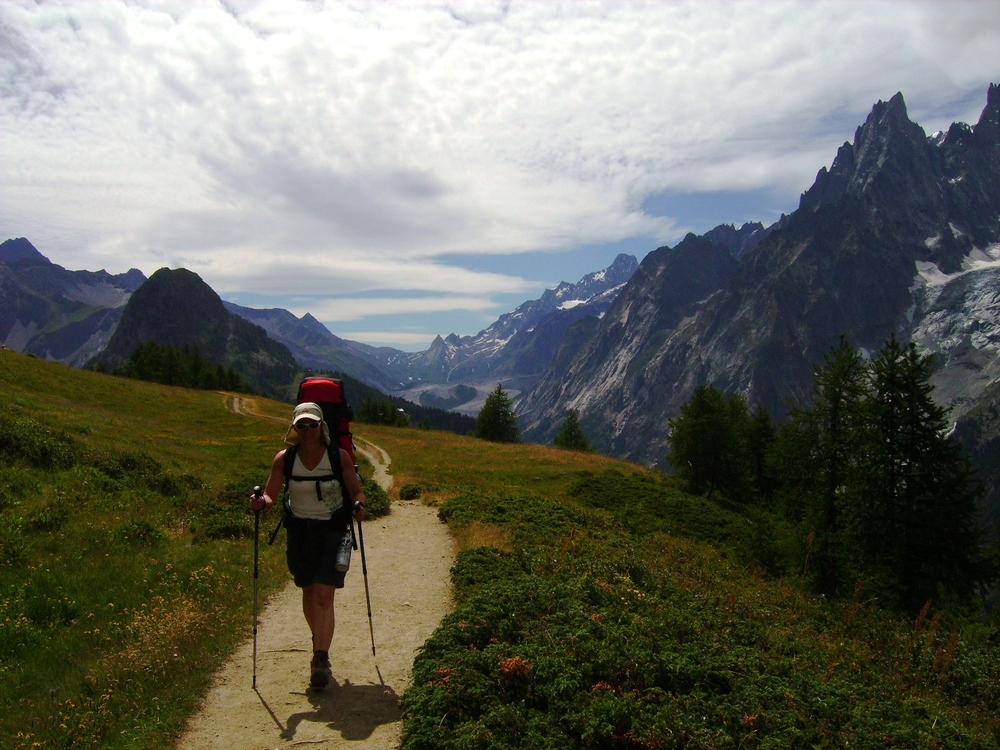 Seventh day: an amusing day of trekking to reach the other highest point of our Tour: Col des Fours, again at 2665 m . From this point we will go down into Vallée des glaciers till Chalet des Mottets, our mountain hut for tonight. 6 ½ hours. 14 km 1300 m rise, 900 m drop.
Eighth day: back to Italy! Today we will close our Tour around Mont Blanc crossing Col de la Seigne, climbing Mont Fortin and then descending in the Italian Val Veny, Courmayeur. A bus will bring us back to the starting point. 4 ½ hours. 14 km, 650 m rise, 850 m drop.
DATE:
ACCOMODATION:
Courmayeur Val Ferret, Rifugio Bonatti
Champex, Relais d'Arpette
Col de la Forclaz, Gite du Col de la Forclaz
Tré le Champ, Refuge La Boerne
Chamonix, Chalet-Gite Le Chamoniard Volant
Les Contamines, Refuge Nant Borrant
Vallée des Glaciers, Refuge des Mottets
Please note that properties shown are representative of the accommodation we use on this trip, may not be inclusive of all accommodations we use, and are subject to change.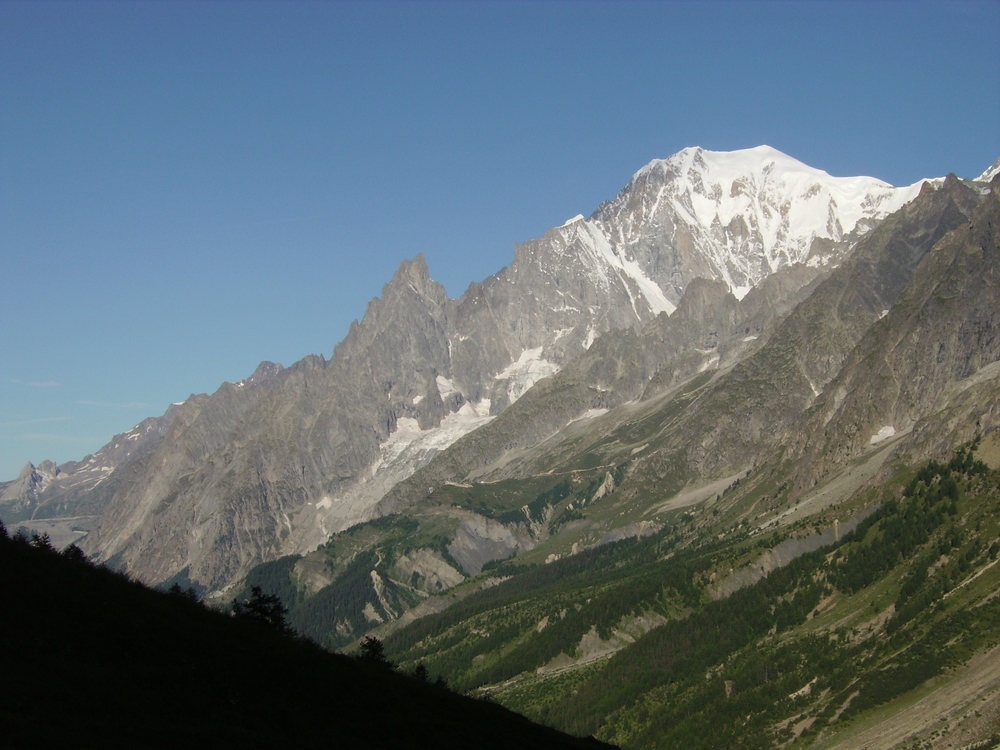 PARTICIPATION FEE: 590.00 €;
COSTS DURING THE TOUR: 520.00 €;
TOTAL AMOUNT: 1.110.00 €;
INCLUDES:
expert leadership (English speaking) for 8 days
accommodation in mountain huts and hostels
7 nights with half board ( drinks not included ) and 1 night in halboard – arrival in Courmayeur
8 days of guided hiking (AIGAE guide)
cable car Les Houches – Bellevue
3 transfers: Ferret – Champex; Chamonix – Les Houches; Val Veny – Courmayeur
WHAT'S NOT INCLUDED:
International airfare; transfer to/from Courmayeur; personal insurance; lunches; sodas and alcoholic beverages. Should you require, we are able to organize your transfer from the airport to Courmayeur and back. We are also able to book your accommodation for the nights before and after the trek.
Extras.
Any tips.
WARNING: The tour of Mont Blanc has a normal hiking difficulty. You must consider the capability of enjoying eight days of walking, hiking along steep slopes. In some stages these differences in altitude and some distance can be shortened by using ski tows (ask for more details).
The guide reserves the right to change the itinerary according to the conditions of the mountain or the physical conditions of the participants.
WHY WITH US:
We live at the footsteps of these mountains and we are extremely knowledgeable regarding the area.
We speak English
We are more affordable and more experienced than many other companies.
WHERE IT IS:
The trek begins and ends in Courmayeur, in Italy – look at Google Maps. This is 100 km from Genève (Switzerland), 150 km from Turin and 220 km from Milan.
HOW TO BOOK: just send us an e-mail at info@mountainplanet.net at least four weeks before .
GROUPS: if you would like to come as a private group we can organize your holiday at any time during the year, on the dates that suit better for you. We can tailor-make the price, the itinerary, including also luggage transfers between stages for trekking tours. Feel free to contact us for any specific requirement: info@mountainplanet.net
CLOTHING AND EQUIPMENT: Good sturdy walking shoes are necessary (we do not recommend using new shoes, that could hurt!). Clothing should be comfortable, warm or cool depending on the temperature: we advise dressing in layers (underwear T-shirt, longsleeved shirt, fleece) with technical material which dries quickly. A good backpack is essential, a waterproof jacket and overpants, gloves and warm hat, sunglasses and cream, a water bottle, emergency food (some energy bars) and something to eat for lunch on the first day. Also do not forget the need for personal hygiene, wet wipes, a towel and a sheet bag. Telescopic trekking poles and gaiters are recommended.